Assessing the scalability of a health management-strengthening intervention at the district level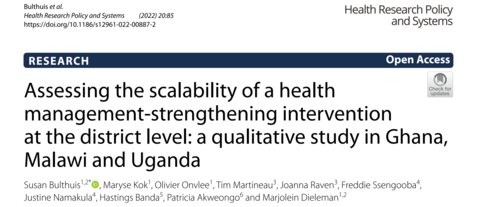 The scale-up of successfully tested public health interventions is critical to achieving universal health coverage. To ensure the optimal use of resources, an assessment of the scalability of an intervention is recognised as a crucial step in the scale-up process.
This study assessed the scalability of the PERFORM2Scale management strengthening intervention (MSI) at the district level in Ghana, Malawi and Uganda.
The study concluded that the PERFORM2Scale MSI is scalable. However, to enhance its scalability, certain aspects should be adapted to better fit the context in which the intervention is being scaled up. They include the greater involvement of regional and national actors, and the continuous assessment of the scalability of the intervention with all stakeholders involved. The assessment of scalability, preferably as part of the monitoring of a scale-up strategy, enables critical reflections on the steps required to make the intervention more scalable and the scale-up more successful.
Read the paper here [opens new tab]
Management strengthening