HSR2020 posters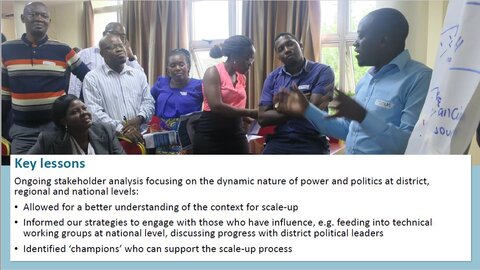 The PERFORM2Scale team presented three posters at HSR2020 in November 2020. You can read each of them here.
Designing appropriate strategies to improve workforce performance at district level in three African countries: what works? - Tim Martineau, Wesam Mansour, Patricia Akweongo, Hastings T. Banda, Paul Mubiri, Marjolein Dieleman and Joanna Raven
The team tracked the evolution of the workforce plans developed by the PERFORM2Scale district teams, from initial problem identification and prioritisation, through the root cause analysis process, to the designing and refining of the work plan. The poster presents their findings. The pdf includes a handout with more detail on the work.
How district health decision-making is shaped within decentralised contexts: Qualitative research in Malawi, Uganda and Ghana - Susan E Bulthuis, Maryse C Kok, Samuel Amon, Samuel Agyei Agyemang, Xavier Nsabagasani, Lifah Sanudi, Joanna Raven, Mairead Finn, Jana Gerold, Olivia Tulloch & Marjolein A.Dieleman
This poster is based on a recent paper from the PERFORM2Scale team which considered how district-level health system decision-making in Ghana, Malawi and Uganda - all decentralised contexts - is shaped by power dynamics.
Power and politics of scaling-up a health systems intervention: lessons from Uganda, Ghana and Malawi - Joanna Raven, Susan Bulthuis, Adelaine Aryaija-Karimani, Lifah Sanudi, Patricia Akweongo, Rebecca Murphy, Frédérique Vallieres, Kaspar Wyss, Maryse Kok, Tim Martineau
Insufficient attention has been paid to the science of scaling-up innovative health care interventions, including how to address the enabling factors and barriers. This study examines power and politics, both of which affect whether an intervention is prioritised for scale-up, the financial and human resources allocated, how it is implemented, and how effective the intervention is over time.