Management of human resources for health in health districts in Uganda: A decision space analysis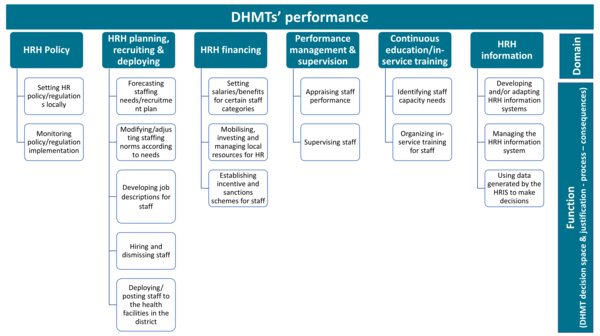 Background
Decentralisation has been adopted by many governments to strengthen national systems, including the health system. Decision space is used to describe the decision-making power devolved to local governments. Human Resource Management (HRM) is a challenging area that District Health Management Teams (DHMTs) need some control over. It functions to develop innovative ways of improving health services. The study aims to examine the use of DHMTs' reported decision space for HRM functions in Uganda.
Results
The decision space available for the DHMTs varied across districts. All DHMTs reported full control over the functions of performance management, monitoring policy implementation, forecasting staffing needs, staff deployment, and identifying capacity needs. However, they reported narrow decision space for developing job descriptions, resources mobilisation, and organising training, and no control over modifying staffing norms, setting salaries and developing an HR information system (HRIS). Nevertheless, DHMTs tried to overcome their limitations by adjusting HR policies locally, better utilising available resources and adapting the HRIS to local needs.
Conclusions
Decentralisation provides a critical opportunity to strengthen HRM in low-and-middle-income countries. Examining decision space for HRM functions can help identify areas where district health managers can change or improve their actions. In Uganda, decentralisation helped the DHMTs be more responsive to the local workforce needs and analysing decision space helped identify areas for improvement in HRM. There are some limitations and more power over HRM functions and strong management competencies would help them become more resourceful.
Read the full paper on the International Journal of Health Planning & Management website.
Uganda