PERFORM2Scale Research – Key findings so far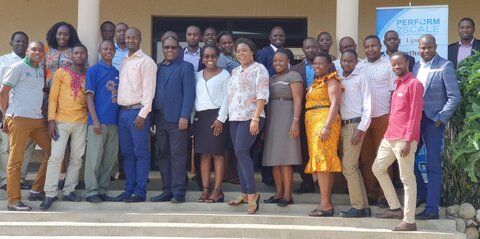 The following is a brief summary of the findings to date of the PERFORM2Scale intervention and its scale up in Ghana, Malawi and Uganda. These findings and others are also being presented through a number of academic papers, briefing papers, reports and presentations which are available through the resources section of this website.
The research questions upon which these findings are based can be found here.
Process evaluation – Management Strengthening Intervention (MSI)
• The district health management teams (DHMTs) greatly appreciate being able to identify their "own" problems to address during the MSI.
• The cost neutrality of the programme (it uses existing resources) is often described by DHMTs as a positive.
• The reflection process – a period of critical review and analysis of the actions previously taken - is challenging for DHMTs from a time perspective.
• Greater inclusion of political leadership and general administrative staff at district level is necessary
• Staff turnover is impacting on DHMT capacity/continuity, eg repeated rounds of induction training are required as staff leave and skills are lost.
• Inter-district meetings, where DHMTs meet to share their successes and challenges and are given constructive feedback by their peers, are highly appreciated. It is recommended that the number of inter-district meetings is increased.
Process evaluation – Scale-up
• Stakeholders were (initially) convinced of the value of the MSI, but it is necessary to get a better understanding of who the key stakeholders are as the implementation takes place, and how best to present the evidence of the benefits of the MSI to them.
• To date it has been challenging to get the engagement of national level political actors and decision makers.
• Detailed scale-up strategies are still being developed.
• There are challenges with regard to clarity on roles and responsibilities within the Resources Teams, especially once PERFORM2Scale ends.

Outcomes in the districts
Ghana
• Increases in Yaws and other NTD detection rates in Yilo Krobo. That team has also used the skills they've developed during the MSI to identify cases of COVID-19.
• The Suhum DHMT targeted low antenatal care attendance (ANC). They engaged with community members on social cultural norms and beliefs, improved service delivery by increasing outreach services, and trained staff on customer care and the patient charter to increase ANC coverage.
• In Fanteakwa, the DHMT focused on high institutional mortality by increasing low outpatient attendance rates. Poor staff performance, as well as poor health seeking behaviour, were tackled using different measures such as training in customer care, governance and leadership, introducing a facility-level attendance register, and setting up a disciplinary committee.
• All districts have experienced improvements in their management skills, team confidence and independence, and teamwork.
Malawi
• Ntchisi increased the number of managers who had developed workplans in the previous six months from 20% to 90%, with some departments achieving 100% completion rates.
• Salima increased health facility supervision (an identified cause of poor-quality service delivery) from <50% to 75%, and demonstrated increased team cohesion and coordination.
• In Dowa there is evidence that DHMTs' lobbying and entrepreneurial skills have been enhanced, resulting in a dormant health facility being reopened and additional staff recruited.
• Improvements in the DHMTs' management skills have been observed across the DHMTs, eg the Ntchisi team reports improvements in group working, confidence and empowerment.
Uganda
• Reduced absenteeism and improved provision of service in both Wakiso and Nakaseke districts.
• Improved TB cure rates in Luwero (20% in Dec 2017 to 63% by March 2019).
• Progress towards addressing low ante-natal clinic (ANC) attendance in Ntoroko district through increased community awareness and improved performance management.
• Steps to improve rates of fresh still births in Kabarole using strategies to increase ANC attendance and reduce labour complications through the provision of Emergency Obstetric Care based on early detection of complications. These strategies are being embedded into quality improvement projects at the district and facility levels.
• Increased confidence among staff and better teamwork and leadership performance.
• Improved coordination with stakeholders at district level.