PERFORM2Scale end-of-project webinar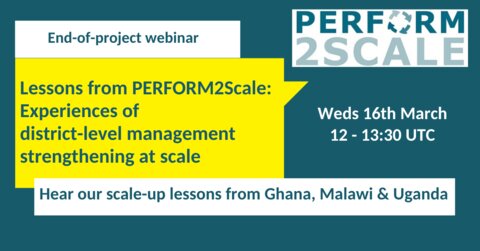 To mark the conclusion of our research, the EU-funded PERFORM2Scale project held a webinar - Lessons from PERFORM2Scale: Experiences of district-level management strengthening at scale. During the webinar we revealed the lessons learnt during our study and the potential applications of our approach to scaling-up.
About PERFORM2Scale
For the past five years our team - a consortium of research institutions from Africa and Europe - has been working on the scale-up of a Management Strengthening Intervention among district health management teams in Ghana, Malawi and Uganda. The intervention had previously been found to strengthen the capacity of district health managers, helping them to develop human resource management and health systems strategies to improve performance. Using an approach based on the ExpandNet model, PERFORM2Scale explored the potential for the intervention to be scaled-up for greater and longer-lasting impact.
Webinar agenda
This webinar revealed our findings and its recording will be of particular interest to those involved in management strengthening, human resources for health as well as scale-up in general.
Introduction to the project and its research methods - Tim Martineau, Liverpool School of Tropical Medicine

Key findings from the research - Dr Joanna Raven, Liverpool School of Tropical Medicine

Panel presentations and discussions:

Dr Benedict Richard Bekui, Director of Health Services at Atiwa West District in Ghana, spoke on the effect of the management strengthening intervention on DHMT management, workforce performance and service delivery in Ghana.
Dr Justine Namakula from the Uganda country research team considered how the management strengthening intervention was integrated into the country's Quality Improvement framework.
Dr Bongani Chikwapulo is Chief Quality Management Officer at the Malawi Ministry of Health and a member of the Resource Team in Malawi. He considered the scale-up strategy in Malawi, how it was facilitated by the Quality Management Directorate of the Ministry of Health and its future in the country.
Dr Maryse Kok of KIT Royal Tropical Institute chaired the panel discussion


Q&A session