Great progress made at Uganda workshop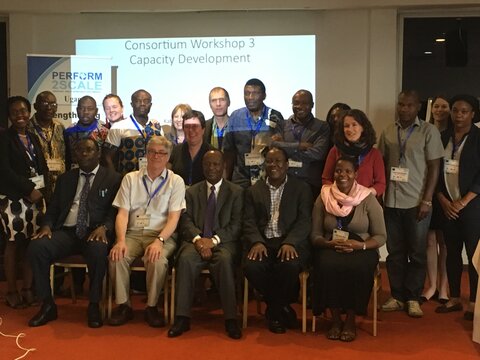 The PERFORM2Scale consortium partners gathered in Kampala earlier this month for a busy and highly productive fortnight of workshops and discussions.
Representatives from the partner institutions in Uganda, Malawi, Ghana, Netherlands, Switzerland, Ireland and the UK met to develop a better understanding of the health systems management strengthening intervention, to consider its application in the three country settings, and to review and refine their strategies.
This was a really hands-on workshop, with lots of experiential learning to ensure that the partners left capable and confident in their ability to deliver the scale up.
Special guests
The workshop was pleased to welcome to the session Dr Henry Mwebesa (Director General of Health Services) and Dr Joseph Okware, both from the Ugandan Ministry of Health. Dr Okware is particularly interested in the intervention in his role as Commissioner for Quality Assurance and Inspection. He is also a former district health officer who took part in PERFORM2Scale's predecessor, PERFORM, so had many valuable insights to impart on the group. In his welcome speech he spoke about the importance of PERFORM2Scale in helping staff to reach their potentials, saying:
"While was have a good number of health workers in station we haven't been able to realise good results, so there is a point in looking at human relations in the workforce... improvement is the key thing... At the end of this effort we hope to have package that will improve the performance of this workforce.
"I am pleased that you have chosen to bring this international consortium meeting to Uganda, and as the guy responsible for improvements in the sector I will be more than available to work with you and learn with you."
Progress made
By the end of the workshop the country teams had assimilated a lot of information on action research and various research tools, and thanks to the hands-on approach left considerably more confident in their capacity to help deliver the intervention in their individual settings. Everyone departed eager to start work in their districts, with the first management strengthening interventions beginning in April.
Some consortium members will travel to Liverpool in October to attend the Health Systems Global symposium, but the majority will next meet as a group at the workshop in around a year's time.
Ghana Malawi Uganda