New briefing paper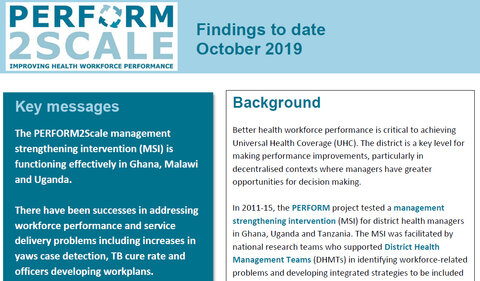 Our latest briefing paper is now available. It presents the results of a consortium-wide evaluation, 18 months into the PERFORM2Scale programme, and gives an overview of progress to date in each of the participating countries - Ghana, Malawi and Uganda.
As well as providing a background to PERFORM2Scale and its main principles and processes, it also looks at:
Workforce performance and service delivery problems addressed by the DHMTs
Management competencies gained by the DHMTs
Scale-up resourcing and infrastructure
Champions and stakeholders
How DHMTs are capacitated in the MSI approach
The facilitators and challenges of scale-up
Read the full four-page version of the paper here or the shorter two-page edition here.