Orientation and situation analysis workshop in Ghana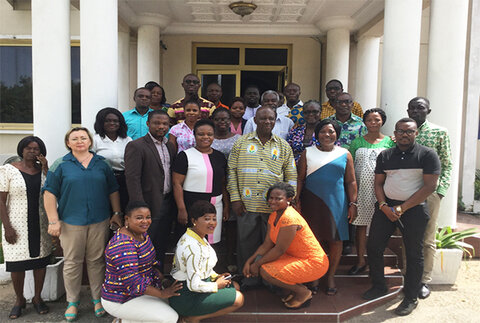 The PERFORM2Scale management strengthening intervention (MSI) is underway now. The Ghana Country Research Team (CRT), based at the School of Public Health, University of Ghana, conducted the first MSI workshop in May 2018 in the study region. There they reviewed the findings of the study districts' situation analyses, and analysed selected health workforce and service delivery problems.
A total of 23 people participated in the workshop, which comprised members of the study District Health Management Teams (DHMTs); National Scale-up Steering Group (NSSG) representatives from Ghana Health Service and Christian Health Association of Ghana; Resource Team members from Regional Health Administration, and DHMT members from previous PERFORM districts.
The CRT subsequently gave a web presentation to other consortium members on their experiences and the lessons learnt. A member of the CRT described the Ghana team's experiences in holding the workshop for District Group 1 which comprises Yilo Krobo Municipal, Suhum Municipal and Fanteakwa District. Over two days the team facilitated the planning phases of the MSI cycle; the part of the process which consisted of the orientation of DHMTs, brainstorming on district specific situations, analysis of workforce-based problems and the selection of strategies to address identified problems.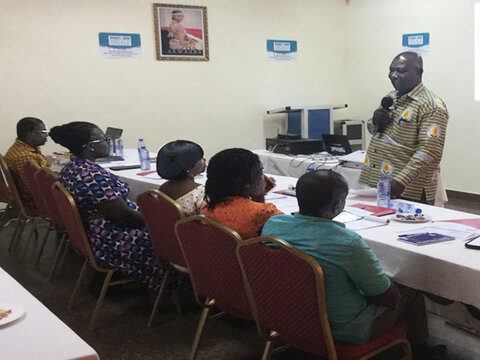 Workshop success
The Ghana CRT member reported that the workshop went very well, with high levels of interaction and participation amongst those present. The post-workshop evaluation showed that the team's objectives for the session were achieved, including agreeing a schedule of future activity, and that the DHMT members reported improved problem analysis skills and confidence in the facilitation team's subject knowledge.
The facilitating team also reported that they learnt a lot during the workshop, lessons which both they and the other consortium members may find useful during future workshop delivery. Suggestions included organising pre-visits to the districts so as to make the best use of workshop time, encouraging all DHMT members to contribute to pre-workshop planning and discussions, and allocating more time to problem analysis. The challenge of ensuring DHMTs focus on health workforce issues, rather than other service delivery problems, was discussed. Nevertheless, it was agreed that it is often possible to identify workforce problems as the root causes of such service delivery problems.
Furthermore, it was reported that the NSSG member from Ghana Health Service commended the formation of the NSSG, which aims to facilitate the vertical scale-up of the MSI method. He further reiterated that the involvement of the NSSG and other key stakeholders throughout the project will facilitate institutionalisation of the approach.
Ghana Workforce performance Management strengthening