PERFORM2Scale in Uganda: A DHMT member's view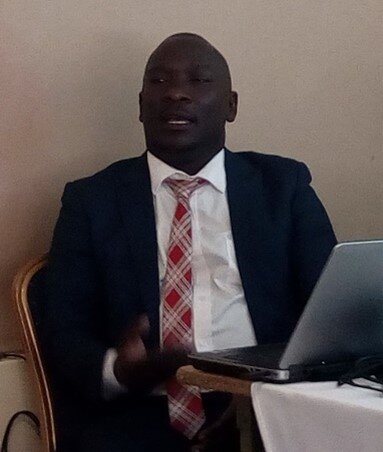 Dr Innocent Nkonwa, District Health Officer and team leader of PERFORM2Scale in Luwero District, describes his experience of the initiative.
---
What problem has your District Health Management Team (DHMT) identified and how have you tried to address that issue?
During Management Strengthening Intervention (MSI) 1 we tried to address the problem of health worker absenteeism but realised that absenteeism per se is hard to monitor and it's difficult to come up with objective indicators. So, we came up with a problem and thought that if we could address it in the long run then we would also be addressing health worker absenteeism. That's how we came up with increasing the cure rate of tuberculosis (TB) - at the time of our problem analysis we were at 20.2% cure rate. We realised that there are many different health sector players involved in improving TB cure rates and that if we all come together to fulfill our roles, we will improve both health worker absenteeism and improve TB cure rates.
Can you describe your approach?
Our approach has been multi-sectoral. When PERFORM2Scale came on board we were told that we would not be given funding but were supposed to act on simple initiatives which were within our decision space, and which are going to impact positively and lead to very good outcomes. So, we sat, we identified our problem, we did a root cause analysis, then we had to come up with strategies, objectives – how we are going to address the problems? What did we have control over? We brought on board existing implementing partners working in areas such as HIV, pooling resources and riding on what was already happening, eg integrative support supervision efforts. Thinking through the problem opened our eyes to resources and opportunities that maybe we had not thought about before.
We identified strategies, objectives and actions and we have seen over time that our cure rate has improved. Our cure rate is now 74% and our treatment success rate is 88.8%. We are certainly moving forward and the methodology is helping us to continue improving for the benefit of our patients.

How has PERFORM2Scale benefited your team?
As well as helping address our low TB cure rate we think that the methodology in general is helping us as a district to move forward. We are trying to cascade it into other fields of medicine, such as mother and child health, and we have seen improvements.
The way we conduct our meetings has improved. We have learned as managers that there are things that we need, like the team spirit, working together, identifying the root causes, not to be reactive but proactive. We have also become more efficient in the way we comprehend and deal with issues; at the beginning of the programme we could spend all day looking at root cause analysis, but now we have the skill to focus and the experience to mentor others to do the same. The team has become more together, more focused and more empowered.
Sharing our experiences with the other districts during PERFORM2Scale workshops has also been a great learning experience. We meet, we share our experiences, and we pick and customise what we think will work in our district.
As a result of our [TB] cure rate has improved, our mother and child indicators have improved, our satisfaction rate has improved, our malaria has improved, our HIV indicators have improved... This methodology, if you embrace it, can do much to help indicators.
How has PERFORM2Scale benefitted you personally?
Personally, my knowledge has improved drastically. I have learnt how to address different challenges in the health system. I have also learnt that there are things that we think need, such as a lot of resources, yet at the end of the day you just need to reorganise your environment to see that you can change the outcomes. Also, I have learnt that every time there is a positive change it inspires and motivates staff to work better. As a leader I have also learnt that data is critical in human resource management. When you analysis and share data you inspire people, it speaks volumes compared to many words. It is motivating and pushes us to do better.
Going forward, how might PERFORM2Scale help the Uganda health system?
The most important thing in PERFORM2Scale is that whatever interventions have been put in place they are activities which are under our control, or within our decision space. You analyse the data and make your own decision and act, even if it is a small thing. It is something that PERFORM2Scale has really opened our eyes on. At times we underestimate the outcomes which might come with the small changes, but we begin with these simple interventions and when you add them up, they have a big impact in our service delivery. We have learnt a lot and if other districts were empowered and they learned how to use their scarce resources, which I think PERFORM2Scale does, then I think that we can achieve more.
Thanks for speaking to me.
Uganda; management strengthening;