Hearing from the people on the ground - PERFORM2Scale in action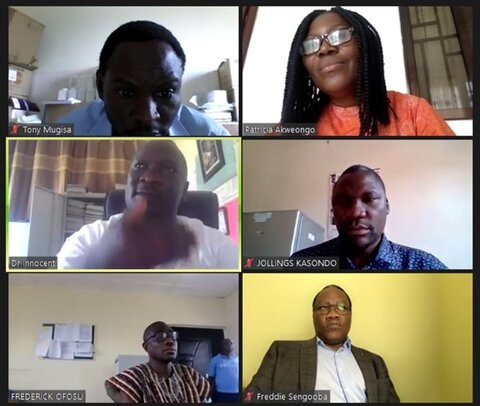 How do you convey the impact of an intervention like PERFORM2Scale? Management strengthening is a rather intangible concept and not easy to measure. How can we capture the personal successes and lessons learned over five years of management strengthening? Video interviews can convey an individual's own opinions and enthusiasm, and reports and briefs certainly have their place when giving an overview, however, it's only something like a full 'get together'- bringing together people from seven African and European countries - where you get a sense of the people involved and the journeys they have been on. That's why we held a consortium-wide webinar in September 2021.
The webinar was conceived as a way to share the programme's country- and consortium-level findings and highlights, but also as a way to share our personal experiences and reflections. Earlier in the project a District Health Officer from Uganda had told us that he could see the impact of the Management Strengthening Intervention (MSI) in his own district and in the other districts that took part in inter-district meetings, but he was curious about how it was working in the rest of the consortium. How was it being delivered in Malawi and Ghana? Was it more or less successful or just different? He knew that he was part of an international research programme but the very nature of the intervention meant that there was a lot of reflection – looking critically at one's own performance – and sometimes it didn't feel very 'international'. What could we do about that?
While COVID-19 may have hampered a lot of PERFORM2Scale's work over the previous 18 months, one thing it had done was open us up to the joys (and sometimes horrors!) of online chats and video conferencing, so a consortium-level meeting where everyone involved in the programme was invited – including staff from all 27 District Health Management Teams (DHMTs) - was certainly possible.
The big day arrives!
In the end 72 DHMT, Resource Team, National Scale-up Steering Group and Country Research Team members from Ghana, Malawi and Uganda joined colleagues from Ireland, the Netherlands, Switzerland and the UK online in September. To be honest, we expected fewer. DHMT members are busy on a good day, but the added weight of COVID-19 has added to everyone's workload. But we were blessed with a group of enthusiastic, positive people who were keen to tell us about their personal experiences of the MSI, the impact it has had on their districts and the potential for its scale-up.
The session kicked off with a brief overview of the programme and the MSI itself and then moved on to the findings from the process and outcome evaluations (you can read a PDF of the presentations here). What started as an opportunity to ask questions about the presentations instead turned into a wave of really positive comments from DHMT members which included...
"MSI has helped our municipality to learn how to solve our problems with our limited resources. Especially involving the sub municipals has empowered them to go through the MSI cycle whenever they are faced with a problem and find solution to it. We are grateful for your support."
"MSI has helped us to identify our challenges regarding indicators and how to improve on them without much financial resources. Teamwork has been strengthened since the inception of MSI. We are incorporating it into other programs to improve on other indicators. We are grateful to PERFORM2Scale."
"There has also been a great improvement in our district - especially our TB cure rate. And in leadership - there has been much improvement. After getting the MSI knowledge and skills we have greatly improved. We have gained a lot from PERFORM2Scale."
What have we learned?
The positive comments continued with the MSI panel discussion involving Doctors Jollings Kasondo (Malawi), Innocent Nkonwa (Uganda) and Frederick Ofoso (Ghana) and led by Dr Patricia Akweongo of the Ghana team. Dr Innocent reported that before the MSI there had been 'a bit of a blame game' among district teams, with the stock response to failure being 'the government isn't financing us enough'. PERFORM2Scale gave DHMTs the decision space to identify their own issues and make their own changes, with small successes making people more positive, improving team spirit and making staff keen to achieve more. The integration of activities across programmes had not only improved health indicators but also driven home the lesson that every member of the team has to contribute or the district as a whole will fail.
Dr Kasondo agreed. His districts had been 'working in a haphazard manner' with teams working in isolation, but PERFORM2Scale had changed that approach and mindset. Teamwork and planning meetings had led to improved health indicators for them as well. It was a similar story in Ghana with DHMTs now better able to identify health priorities and address them holistically using a multifaceted team-focused approach.
All teams commented on the impact of reflection and documentation during the MSI process, with Dr Ofoso reporting that the Ghana teams now rely on documentation for decision making which has markedly improved their performance.
COVID-19 and PERFORM2Scale
COVID-19 was inevitably mentioned. On one hand it has limited staff availability and reduced resources, but it also provided opportunity to apply the lessons learnt from the MSI to a new challenge. Staff in Ghana reported that the MSI inspired better integration of teams and activities, and lobbying for resources during their COVID response, while in Uganda staff were prompted to be innovative and work within limited resources, just as they had learnt during the MSI. This was real evidence that the MSI can improve DHMTs' performance and service delivery within resource constrained contexts.
Scaling-up the MSI
The webinar also provided the opportunity to hear from the Resource Team (RT) and National Scale-up Strategy Group (NSSG) members from each of the countries. Chaired by Professor Freddie Ssengooba, a panel of Dr Joseph Okware (Uganda), Dr Abraham Hodgson and Solomon Boamah Amponsah (Ghana) and Dr Malangizo Mbewe and Dr Bongani Chikwapulo (Malawi) considered the next step for the intervention. How do we move towards scale-up? What mechanisms are in place to assist roll-out?
There was consensus that the success of the MSI was evident through both qualitative and quantitative reporting, although aspects like improved teamwork prove difficult to quantify. It was felt that the first-hand testimonies from those involved in the process to date and the passion they convey would be vital to enthusing future districts and persuading them of the benefits of the MSI.
It was also felt that now was the point at which those who had experienced the MSI might support other managers and in Ghana the RTs should have more formalised training. In Uganda a small team of national-level RTs, who are expected to guide future DHMTs, are being supported by the recruitment of regional RTs who will be capacitated and mentored by the national team. It is likely that the MSI would be integrated into existing structures, with Uganda embedding some parts into the Quality Improvement cycle and Malawi capitalising on the peer-to-peer learning through the regular Zonal Management meetings. Again, the importance of a culture of teamwork and group improvement was driven home – an intangible but hopefully lasting legacy of PERFORM2Scale.
More from the speakers
Some of the participants have given interviews for this website. Read them here:
Ghana; Uganda; Malawi; DHMT